Turn data into action across everything you do
The AEPS®-3 system gives you the tools to ensure that every young child makes real progress from birth through kindergarten. More than just a proven assessment, the system also features a reimagined, multi-tiered curriculum that helps you turn data into action.
You'll be better equipped to rally children for school readiness by setting goals, developing IFSP/IEPs, determining eligibility, planning teaching and intervention, monitoring progress, and communicating more effectively with families.

Assessment, Evaluation, and Programming System for Infants and Children, Third Edition (AEPS®-3)
Here's a quick look at the system's components.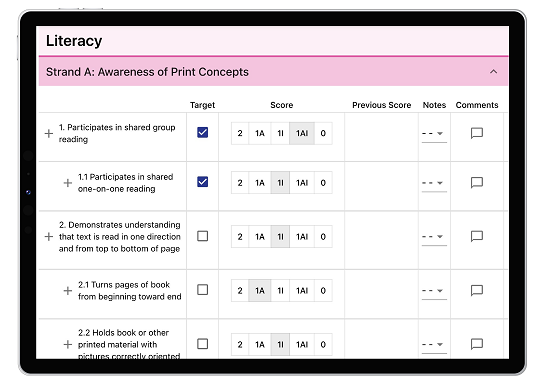 AEPS-3 Test
It begins with the assessment. The criterion-referenced, curriculum-based AEPS-3 Test evaluates developmental and early academic skills that children need to develop independence and succeed in kindergarten. Spanning birth to 6 years in one continuous, seamless assessment, the observational test has 400+ items and covers 8 developmental areas: fine motor, gross motor, adaptive, social-emotional, social-communication, cognitive, literacy, and math. The test links to specific strategies for building skills with the AEPS-3 curriculum.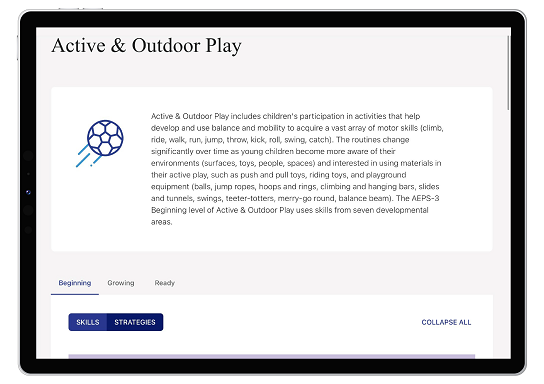 AEPS-3 Curriculum
For use after the AEPS-3 Test, the reimagined AEPS-3 Curriculum creates engaging learning opportunities for children using universal, focused, and specialized supports and strategies. Professionals teach skills through 18 daily routines and activities with differentiation for children from birth to 6. Because skill acquisition isn't solely determined by age, the curriculum spans three levels: Beginning, Growing, and Ready.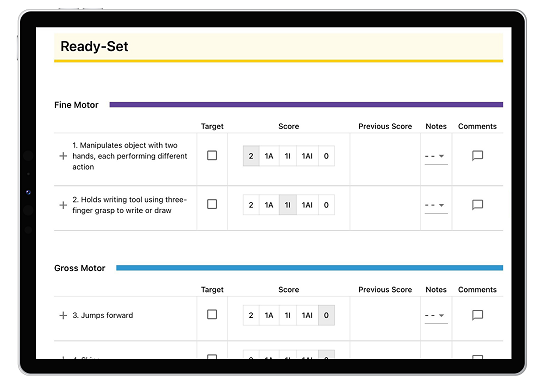 AEPS-3 Ready Set
The AEPS-3 Ready-Set pulls 40 developmentally advanced goals from the AEPS-3 for a concise measure focused on school readiness. The shorter Ready-Set supports convenient assessment of groups of children in preschool and Head Start classrooms. AEPS-3 Ready-Set is a tool you'll use again and again to efficiently gather child assessment data and determine which children would benefit from the full AEPS-3 Test.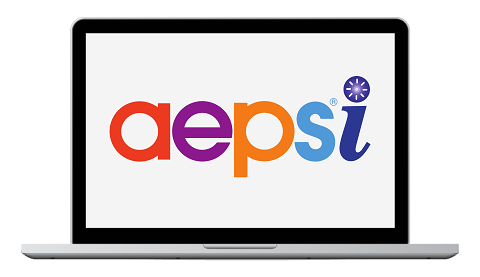 AEPS-3 in AEPSi
We know how important your job is, and how challenging your busy schedule can be. That's why AEPSinteractive (AEPSi) was specially designed to save you time and help you seamlessly link assessment, goal/outcome development, intervention, and evaluation. A highly secure, mobile-friendly system, AEPSi makes it easier to use every component of AEPS-3.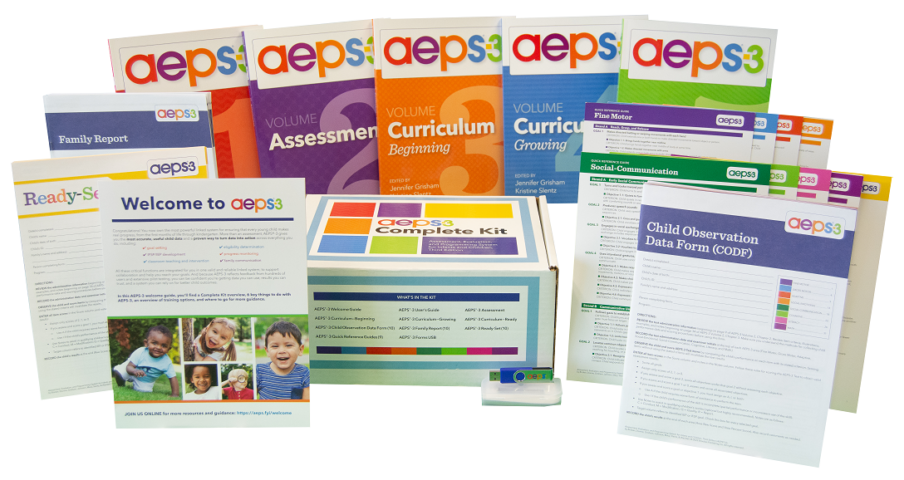 AEPS-3 Complete Kit
The AEPS-3 Complete Kit is the full set of print materials for implementing AEPS-3 in your program. It includes a User's Guide, Assessment volume, 3-volume Curriculum, Child Observation Data Forms, Family Reports, Ready-Set forms, Quick Reference Guides, and a USB with printable forms and resources in English and Spanish.
Special introductory pricing available!
I have used the AEPSi curriculum and assessment tool for several years, and I appreciate the global picture it gives me of my students and their areas of relative strengths and needs.
KAREY DENNIS
Early Childhood Special Education Teacher, Fairfax County Public Schools