AEPS Interrater Reliability Certification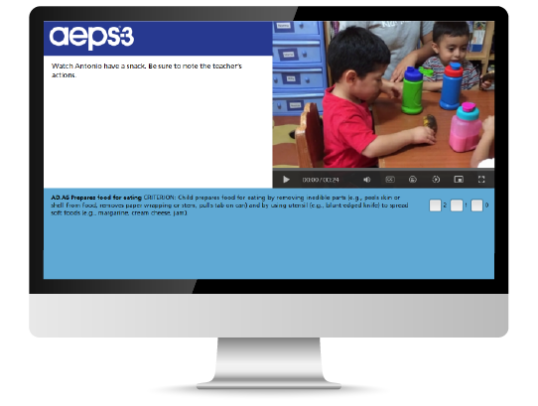 How can you ensure that you or your staff use observation skills to score AEPS®‐3 correctly and consistently? Add this Interrater Reliability Certification—now updated for AEPS‐3—to your professional development toolbox!
Invaluable for states and districts that require teachers to demonstrate reliability on assessments, this field‐tested online certification module helps ensure that AEPS‐3 is used accurately to promote real progress for every child.
When AEPS‐3 users are certified, you can be confident that your assessment information is reliable: for every child, across observers, across different circumstances, and on different days. And more accurate AEPS‐3 results mean better intervention and instructional decisions—and better child outcomes.
How it Works
The module includes a narrated training presentation with video examples that illustrate different scoring scenarios to practice and prepare for certification. After viewing the training presentation, users complete the certification test, observing children in naturalistic settings with closed‐captioned videos, and scoring items across every area of the AEPS‐3 Test: fine motor, gross motor, adaptive, social‐emotional, social‐communication, cognitive, literacy, and math.
The online system calculates and reports overall results and results by area immediately and gives users a chance to review the correct answers and rationale for each score to build their knowledge.
Users who score 80% or higher on the test are certified reliable for three years and can print a certificate. Those with scores that fall below 80% can review the first test and take a second test to try for certification. (A user's access period for the certification module is valid for one year.) Administrators purchasing multiple subscriptions for staff have access to progress monitoring reports and certification results.
AEPS-3 Interrater Reliability Certification
$125.00  |  Stock: A3IRR